Raising a child is never easy. Motherhood can be compared to a full-time job that requires tremendous amount of time as well as significant efforts. However, unlike any other job, a mother does not receive any payments and is nevertheless completely dedicated to her baby. Let us face it – moms from all over the world are the bravest, most honorable and modest heroes out there. Just imagine how much weight and pressure is being placed upon a mother's shoulders, how much difficulties she encounters and how devotedly she protects her child. Furthermore, Mums do not demand recognition, they do not require fame – their sole purpose is to educate their kids, raise them properly and help them integrate in the modern society.
With that said, most mothers do not get enough support from the people surrounding them and are forced to deal with their problems on their own. Needless to say, without guidance and moral assistance, motherhood can become even more tough than it already is. Hence, it is very important for any mom to actively communicate with other women who are raising their children or perhaps are only expecting a baby. Fortunately, we live in a progressive world, full of sophisticated solutions. Our society knows no limits in terms of communication, thanks to the endless possibilities of the World Wide Web. All kinds of social networking web sites, such as Facebook and Twitter connect people from all over the planet. Furthermore, if you are looking for a more particular social network that will help you become a better mom, we simply cannot help but recommend you to definitely check out our mom community – a one of a kind online resource for mothers that are looking for guidance and support.
That's right – you can now join our amazing moms social network and learn all the most useful tips, tricks, recommendations and guidelines that will assist you in raising your child. Our warm, friendly and welcoming users will always be more than happy to help you with handy advices and interesting suggestions. Moreover, you can also share your very own motherhood experience with the rest of the world in order to help other women of all ages. Our social network gives you a unique possibility to discover unique approaches to educating your children, helpful techniques that will significantly ease your pregnancy and much more! Join us today and we are absolutely confident that you will never regret it!
This is the first day that Mj is going to swim but even during the warm up, her wound got worst. It opened and it looks very awful. The Collodial was effective, it was a liquid that my sister gave me, it dried up but when the wound soaked in water, it looks like it was worsen.
One parent told me to buy her an anti-biotic, I should have bought it in Davao but it is too late already we are alread here in Pagadian. Good thing the pharmacy is near at the sports complex so when her event was done, we went together to the pharmacy and bought a Bactruban, it works! Thank GOD!
Right after checked up we went back to the mall and Faith was able to see this saloon for the kids. I guess she was attracted with the whole design of the saloon. Of course, it is intended for the kids, so expect to see that their chair where the kids will sit when they are having hair cut is a replica of a toy car. The style as well is very colorful, they also had a mini wonderland inside. Faith insisted to have a hair cut on that day and of course she want to experience it to that saloon, actually this is the second time that she had her hair cut there.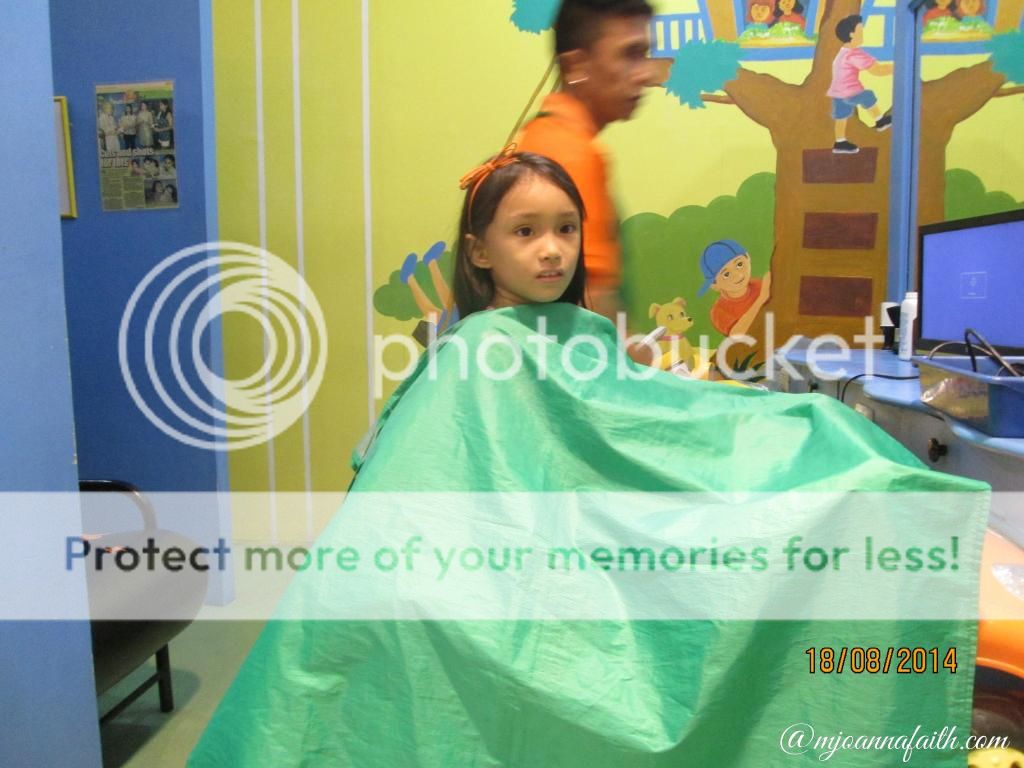 Before she had her hair cut, no bangs at all.
I let her choose what she like for a new hair and she pointed the short hair with bangs.
The hair cut is starting, Faith is enjoying this pampering.
The washing of hair.
And then Faith's new hair.
Last Sunday, we were invited for a birthday party but I choose not to come because we were saving our funds for our upcoming trip in Pagadian. Yes, I decided to go with my eldest daughter. Right now I am preparing for our expenses, the funds that I would left here with Mariel and Faith and our expenses for our trip. Not to mention, that we also have to pay for our monthly payment at home. The owner is already agitating with the payment, and keeps on bugging us to pay them. On the other hand, Mj was a bit sad because she was not able to come to the beach party. It was an overnight party, and as we could see it in the picture, they had lots of fun! They had camp fire, they grilled smores and they were able to put up a tent for them to sleep. If we were there, we might  brought our tent and shared it with them.
The team also had story telling with the kids, they were able to post some pictures, which made Mj more sad and wishes that she is not that busy. We don't have to spend when we go there but I am just shy not to contribute. The most exciting was the fireworks, I am sure if we were there Faith will be amazed and both of them will have fun. We surely missed the fun, and I hope there is still next time.