Browsing Category: "Party"
If you are following my blogs, you must knew it already that recently we celebrated our youngest daughter's birthday. Faith had a blast, she entertained her guests and she had fun. When she was asked what her birthday wish was, she right away answered to be a good girl. Surely she knows that she can't behave even at school and Kumon, she is very playful and very talkative but don't get me wrong my daughter is smart. Anyway, she enjoyed her party so much especially when the mascots came out and greeted her.
Here is the collage on her birthday party.
And our picture together sigh my husband is not here to celebrate with us.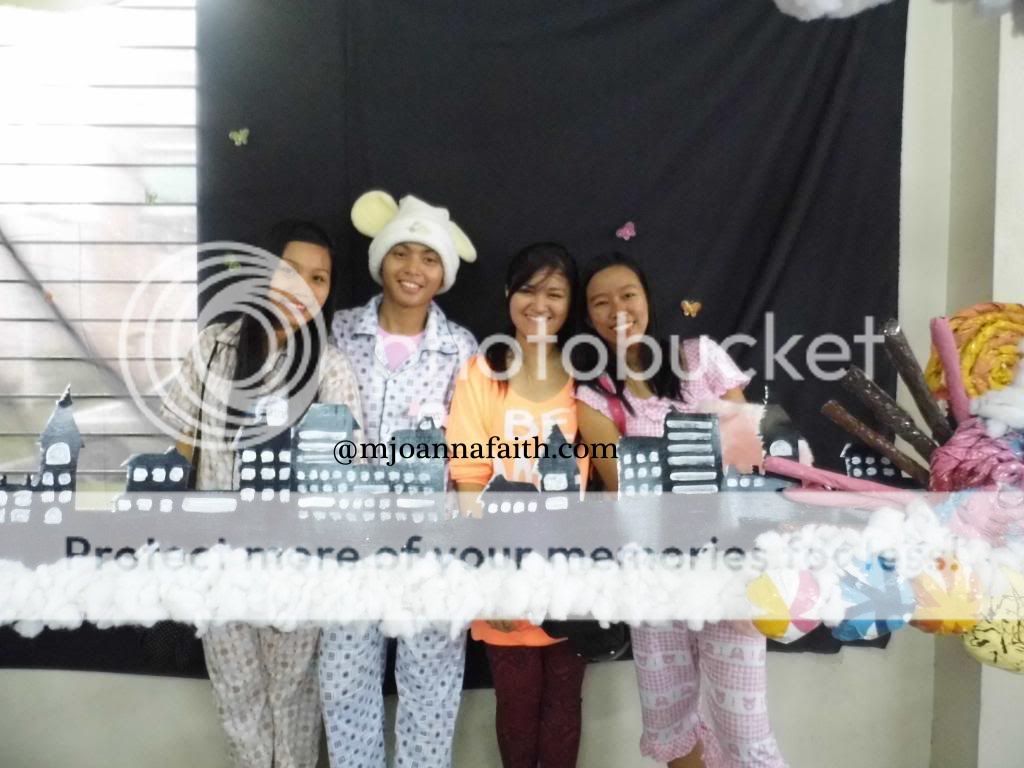 One day my niece was begging to buy her the Korean style pajama attire since they are going to have a Pajama party at school but when we went to the mall, she chooses a bit different style of Pajama; in fact it was not more likely a Pajama at all. The one who wore an orange sweatshirt is my niece, what do you think of her attire? Anyway she is with her 3 classmates at the picture.
On the other hand, the reasons of her picking up that stuffs, I don't even sure if that really a pajama style, oh well she said she can use it not for sleeping but she can use especially the pants outside when they will have civilian day on Wednesday. It's a good decision right? But she was so worried when she entered the school during that event; she was worried that they will not allow her to go inside because of her attire. Good thing, they were not able to notice her attire at all and she was free to join the fun.
The event was already late when it was finish, I have already texted her if where she is already, she answered me right away that the event is not yet finish. I trusted my niece, but what I don't trust is the consequences of going home late, ya know we can't trust anything in this world at all, anything can happen in just one snap of our fingers.
And so the venue was change, instead of having a pool party for my friend daughter's birthday it was held instead to their home sweet home. So all the classmates of Yuna that were invited can join the fun. I almost decided not to attend the party but I know how Mj misses her friends from the training so even though she have to go to her classmate's house for a project and that I have to meet up with her somewhere in the road going to the venue, we went off besides it has been a while that the mom of the kids and I were not able to chat and make-up.
When I arrived at their house, Yuna and Arisa welcome us right in front of their gate. They could not wait for us to go down from the car, Mj hugged them right away. Faith, on the other hand went directly inside the living room to get some marshmallows, LOL. She always loves the marshmallow from my friend, it was cue along with a Hotdog.
When we arrived the games are already started, Mj did not join as she is already a teenager but Faith won from the bring to me game, I think she won several times that she was able to bring some toys and candies at home.
The birthday girl surely had so much fun, of course with the gifts that she received from her guests and a love so everlasting from her Mom, she must be the happiest girl in the whole wide world today.
This only happens only seldom that they are together once again, I have to thank the mother of the celebrant for inviting us over. We indeed had a blast and we were so full, too bad that my other niece was not able to join, she choose to stay home than to go with us because of the Korean Drama she is watching online.
Mj, Faith, Arisa and Yuna just witness a magic on the day of the birthday celebrant
This has been the second time that my eldest daughter has done face painting, the first one was when she was invited for a birthday party to one of her classmates, I have let her to attend the party since it was held only nears at home. When she went back to the house, she had a nice painting on her face. I think I already posted it here in this blog.
Just recently, we were invited again for a party, this time it was the engagement party of my friend. She expected some kids to attend to with their parents so she thought face painting would be the best entertainment for the kids. I just suggested for a company that caters face painting and such and she was glad that she came to the right place because their designs were cute and most especially the kids love it. Here's my daughter posing with her face painting on.