Browsing Category: "Swimming Class"
Last week was a busy week for Faith but it was good for her because it was so dreading hot here, one time when we were on our way to her swimming class, she said it was too hot and she's thankful that she had a chance to soak in the water. Too bad it was her last day on Saturday, their graduation was set on that day I want for her to continue it to advance swimming but I don't have budget anymore and besides our car is busted again that the mechanic said we need to overhaul it. On the other hand here's Faith picture during her last day in swimming.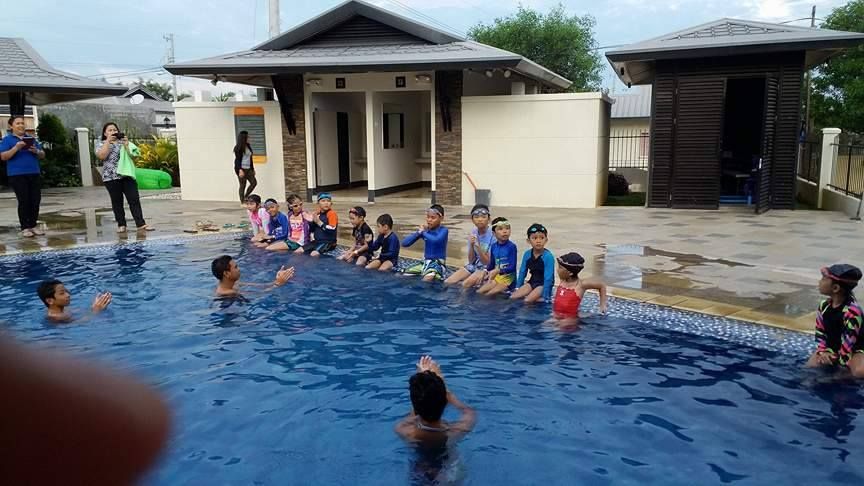 I knew this from before that Red Cross has a summer class for swimming, before we had our getaway last weekend I enrolled Faith in basic swimming. We started on Tuesday and we ended up just today. The first day was a lot of fun for Faith, she was able to meet some new friends, which was okay but the thing is when it was her turn for the lesson, she get distracted and she won't listen. I keep on reminding her to listen, I like her to learn at least one stroke it has been like lots of summer I enrolled her for swimming but she ends up nothing to learn because she won't focus and she won't listen, she just keeps on playing. Good thing that the instructor was so patient and strive so hard for Faith to learn but sad to say she wasn't able how to learn one stroke, she knows how to float and some stuffs but I want her to learn the 4 strokes. Sigh, maybe just maybe I would bring her to a coach so she can learn the 4 strokes and will start swimming and soon she will start her first competition.
The road is very quiet, after the incident last night, everyone I guess just stayed home except us. The moment I went out from work, I have to fetch the kids to send them to Kumon. I supposed to meet them in Kumon, but I did not let them commute this time because of the incident last night. It is dangerous for them to ride a Jeepney.
I need to have the horn of my car repair so I send them to Kumon first; I leave them there for 30 minutes so I can look for someone to repair the horn of my car. Good thing the repair shop just near at Kumon, I was thinking to grocery shop but I just brush the idea.
After Kumon, we went to Magallanes Condominium. Mj needs to have training for her swimming since she will represent her school for DAPRISA. She needs to have some air so to survive during the competition.
While we are there, Faith meets a new baby friend, a 2 year old baby who is a resident there. They have so much fun, they were able to ride in a see saw, climbing and do the monkey bar. Faith is now behaving but she can't stop talking.
This week was Faith's final exam, it was a roller coaster ride for us because she would sometimes listen and not. But I keep on telling her to answer the exam correctly and she have to listen and follow her teacher. It was very hectic for her; I know Faith tried to understand with what I taught her. And I know she already get tired also of going to school, she has been pressured to answer and not to play. As a reward for her, today we went to the pool for her swimming lesson with Mj's coach. She was so happy when she learned that she would swim today. I just hope that she would listen.
Faith always does swimming lesson on summer, this is her I guess three consecutive summers already so I am crossing my finger that she would learn some strokes this time so she could join novice competition next time. Anyway she listens and follows sometimes although there are times that she preferred playing than doing what her coach told her. All in all, she had so much fun so till next time.