Browsing Category: "Swimming"
Last week was a busy week for Faith but it was good for her because it was so dreading hot here, one time when we were on our way to her swimming class, she said it was too hot and she's thankful that she had a chance to soak in the water. Too bad it was her last day on Saturday, their graduation was set on that day I want for her to continue it to advance swimming but I don't have budget anymore and besides our car is busted again that the mechanic said we need to overhaul it. On the other hand here's Faith picture during her last day in swimming.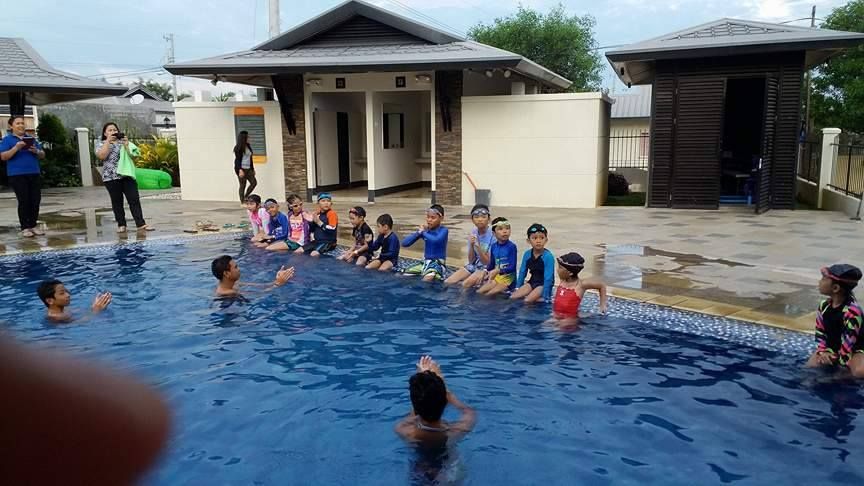 Unlike with her previous school, her school now is so supportive of her. Her Principal even announced that she will give 10 merits to those students who would watch her event. The reason why, during her competition last Sunday, the cheer went so wild when she is trying her best to swim fast.
Mj with her coach and her classmate
Mj saw her previous team mate in the event. It seems like nothing has changed even Mj did not already return to her previous team.
Mj and her previous teammates
Her best friend went there to witness her event too
The whole gang went there to watch Mj performance in swimming
I planned to at least take a half day at work tomorrow since it is my eldest daughter inter-school swimming competition but sad to say I can't anymore since I had a total of 4 days of absent when Faith was sick and I was too. Good thing that Mj can go to the venue by herself, she said she knows how to go there. And one of the teachers also represented herself to fetch Mj so she is safe. And besides I have some friends at the venue that can check for Mj from time to time. This is what I don't like when I am working, I would miss big events of my kids just as these. If only the schedule for their competition is definite, I could have plotted to be absent so to make sure that I will be paid and my work will not be compromise but this is what we signed for; this is what our life now so I'll just have to live with it. On the other note, I will fetch Mj from the venue at lunch. I hope and I pray she will be able to qualify on the next DCAA.
The road is very quiet, after the incident last night, everyone I guess just stayed home except us. The moment I went out from work, I have to fetch the kids to send them to Kumon. I supposed to meet them in Kumon, but I did not let them commute this time because of the incident last night. It is dangerous for them to ride a Jeepney.
I need to have the horn of my car repair so I send them to Kumon first; I leave them there for 30 minutes so I can look for someone to repair the horn of my car. Good thing the repair shop just near at Kumon, I was thinking to grocery shop but I just brush the idea.
After Kumon, we went to Magallanes Condominium. Mj needs to have training for her swimming since she will represent her school for DAPRISA. She needs to have some air so to survive during the competition.
While we are there, Faith meets a new baby friend, a 2 year old baby who is a resident there. They have so much fun, they were able to ride in a see saw, climbing and do the monkey bar. Faith is now behaving but she can't stop talking.