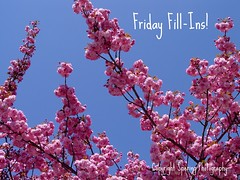 And…here we go!
1. I was so sad this morning when I heard that news but I hope it would be okay next week.
2. We were in a hurry this afternoon and I left my book at the shelves.
3. Why does everything has to be slow.
4. Forgive and Forgivable was in my thoughts today.
5. One of my father's favorite sayings was finish your studies, because that's the only treasure nobody could ever get.
6. Being rejected–I know that feeling!
7. And as for the weekend, tonight I'm looking forward to read the when God writes your lovestory, tomorrow my plans include bonding with my little baby and Sunday, I want to watch the movie Dear John!
The last time I pig out was on Sunday, I guess I already posted the pictures in one of my blogs. Still let me share it once again here.
I never been into a Korean Restaurant before and thanks to my cousin Ivy because she brought us all there, the kids had a blast. Well, Faith could not eat the side dishes since it was so spicy, we let her try the samgyupsal but she didn't like though she was okay with a fried fish. It was my first time to taste the samgyupsal and it is so damn great. I will have to go back there to have it again; I just have to have a budget for it.
Early next month, I would ask someone to paint our fence and gate since it really needs a color very badly I also have to
buy mattress
, pillows, and another set of curtains and seat cover so when my husband would come next month, he would be at least comfortable this rented home. I think he would stay here at least ten days including with the visit in Manila, we have to attain some papers and documents there and it is with the kids of course. It would be a great family time together once again.
I hope Mj will have a break from her swimming lesson so she could go with us, or maybe she could skip at least three days and be back after. Well, I think her coach would allow her since his team who enrolled last summer and continued their training will have a competition on May 27th, I hope they would win so they could proceed in Hongkong swimming competition.
When I was in high school, I never thought that being bubbly would be a start to gain friends. I was clueless since I just have numbers of friends during my elementary years. I never even have someone whom I could trust or talk a lot of things. Well I keep on transferring school during those years, first we have to move here so my Dad could forget his depression when we lose our Mom, he resigned and my sister suggested that we could have our life here, second was when Dad followed my Mom, one of my uncles took me and was trying to adopt me so he brought me to his place that later my sister found out that his wife was not treating me well. I have no circle of friends until I graduated in Elementary.
I was so surprised when I stoop into High school, I am not a popular student at school, I don't even received any school awards, I was only in the fourth rank in our class but geez I had 22 friends going back and forth to our house, it was like half students in our class room. I was so happy, I feel like I truly belong in that school. Even my teacher marked my class card "So Friendly" to think that I am only an average student at school.
It was so different when I get to college; your classmate is not your classmate to the other subject. So I have to be keen to whom would I make friends and don't make friends with. There's one girl in school, who always called me or wanting me to go with her in the mall or in the canteen or in the magazine shop. She love's Candy Magazine and when I tried to check the price, my gosh! It was already my allowance. She belongs to a socialite community, no offense but she treated me right, she even pay my snacks whenever we go to a snack bar or pay my lunch. But I started to feel awkward when she introduced me to her circle of friends, whom she just met in the bar, some of them have cars, they are the kind of girls whom you could see in a very expensive cafe while I have nothing. Days passed, I could not seem to see her anymore in our classroom, later I found out that she is always hanging out with her friends. She avoided me. I was alone but I realize maybe we just ain't right, maybe I have to thank her for letting me go since I don't really belong to them. I have to see some friends who are always there for me no matter what my status in life would be, then I found one, two, three, four and five.
She approached me one day, asking my help for her school project because she failed and she told me her parents would curse her if she can't make it. I helped her although it seems like I was the one doing the effort to get her project done, I realized I am not helping her at all so after I gave her the project I told her next time you should do your best to pass because I will not be around anymore.
I don't know if I've done the right thing to challenge her to be the best she can be, because when another semester has started, I didn't see her anymore.