Archive for September, 2012
Last Friday, when my daughter went home from the party, she was so alive and said she enjoyed it a lot.
It was her first time to attend a birthday party on her own at her classmate's house, the place was a bit far from school but I didn't worry because she said her teacher will accompany them and besides they are riding in a car of the one of the heads of the school.
It was past 7:00 p.m., that I am texting her to get home, she then told me they are on their way and they are already approaching at their school. So I waited for them to stop at the school, when she hopped in, in our car she has so many stories she told me about. She was so thankful that I allowed her for the first time. I can see the fun and contentment on her face.
She said, they ate spaghetti the moment they arrive at the house, then they went to their other classmate who is just a neighbor of the celebrant. They ate a lot of foods, they had games and she bonded with her classmates as well.
She was free for the first time because mostly I always say no or I will accompany her to the place but that time since I don't know anyone, I decided to let her but I've made sure of her safety, like who's with her and who would send them to the place.
I am not sporty myself but maybe if I have given the chance to undergo proper training for volleyball or chess, I could be like my daughter who is a swimmer now.
I was with a friend in a golf course and this friend want me to teach how to play golf but because I am just too scared to hit the ball, I let it pass. I mean maybe it is just like that when you are ageing, you don't like to learn new things for sports at all, and I thought maybe I already ran out of time. So what I did since golf is not my cup of tea at all, I just tried to drive the golf cart and I enjoyed it so much. I was even get stuck in a tree and tried to pull over, the staff there was laughing at me and tried to help me. The staff even noticed me and said I enjoyed driving the golf cart than playing the golf. Oh well, I totally agreed with him.
The whole week of last week was the fun day, Intrams and foundation day of my youngest daughter. It started on Monday and it was full of fun. They started the game with the lightning of torch; the fathers were given the task to light the torch of different teams. While my daughter and I watched them with glazed, I mean the fire surely amazed my daughter.
While the other parents and the kids participated the game  my daughter was also playing with the other kids.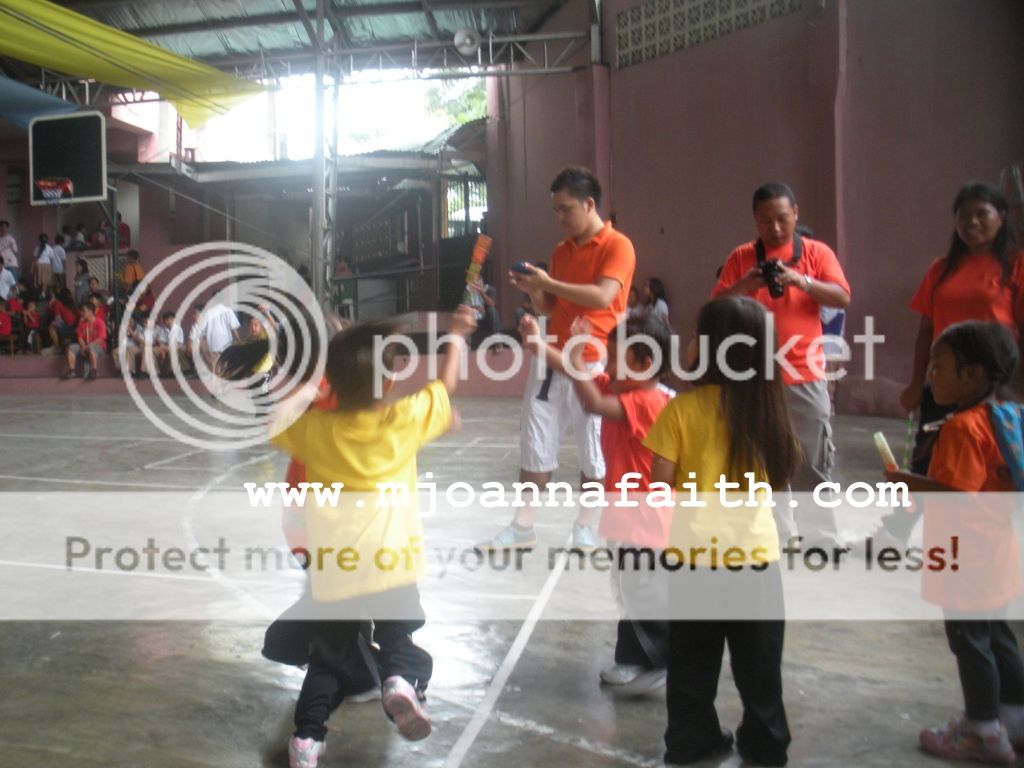 After the running, the shooting of the ball, tag of war so on and so forth, my Giraffe show off with his dance and all the kids joined the fun.
The fun day was only half day, our team was color yellow. Everyone participated and worked hard for the team. I am looking for another fun day next year!
Mj was a puzzle lover when she was a little younger. But when she gets too busy with her sports and Kumon sessions plus the tutor she was not able to play for it anymore. Her puzzle was nowhere to be found already when she tried to look for it. I guess it was left in the old house when we transferred here. Just recently, my youngest daughter is fond of playing her blocks nowadays I wonder if she loves the springbok jigsaw puzzles, and since she loves the snowman, I will try to buy that kind of designs for her. First, I may have to help her connect the puzzles then after like a week, I am sure she would learn from it. This helps also to sharpen the kids mind and it is a great way to stimulate the brain of our child.