Archive for December, 2012
Faith is so fond with riding in a carousel in SM, whenever we go to SM and she saw this carousel, she would immediately requests if she can have a ride. Of course, as she can't come with Mama oftentimes in the mall, I always say yes to her request. Here are some pictures Last Sunday in the mall, you could really see how happy she was riding on her favourite carousel.
I really don't know what to say, although I already expected it but I am still surprised when my eldest uttered me this morning that she already got her first period. My niece was teasing her but my eldest was not affected. I guess she knows what to do already. It has been tackled at her school what to do when the first period comes. She did not even bother to ask me how to put the napkin on her underwear, she just do it on her own.
There is really a big difference from mine before because I was really scared when I had my first period. I feel I committed a crime the first time I have it. My sister even told me to jump from the 3rd stairs at the bottom. And she gave me a red Gumamela flower to put on my cheeks so I won't get any pimples while entering the teen's life. Yet now, there are no such things anymore, my daughter just took a shower with more extra proper hygiene this time. And asked how long would it take to have this period stop, and I answered it is just 3 or 4 days and the longest is 5 days. She went off to school bringing extra pad, my husband even asked me if she still went to school and I said yes, it seems like she accept it freely.
Guys, if you want to watch a live coverage of Azkals Singapore 2nd leg, you may want to copy paste this to your browser http://ph.sports.yahoo.com/news/soccer–live-coverage-of-azkals-singapore-2nd-leg-072014445.html. Azkals Vs. Singapore Lions will start at 8:00 p.m. tonight. So if you are an avid of football, stop what you are doing right now and watch the live coverage. I have not watched anything yet of any football game, I mean I wanted to watch now but I am just too tired to face the computer, and so as I want to rest because I am not feeling well since this morning. The medicines that I am also taking makes me so sleepy. So guys, good luck to those who beat for Azkals I am sure they will do good and would win against Singapore Lions.
Faith just had her field trip last month; I already posted here the first place they went to visit. Remember that they visited a home for the orphan last month; the scenario of the kids always brought me into tears. I just wish that they could still have a Merry Christmas even their parents are not with them.
The Team Air force signage
On the other hand, after the visit in DSWD, the group went to the 3rd division, Philippine Air force office. The camp was filled of 3 kinds of helicopters. But before the kids tried to hop on the Helicopter, the officer in charge showed us their K9 and how it could detect a bomb. The K9 takes a very big role for our air force in case they need to find something dangerous.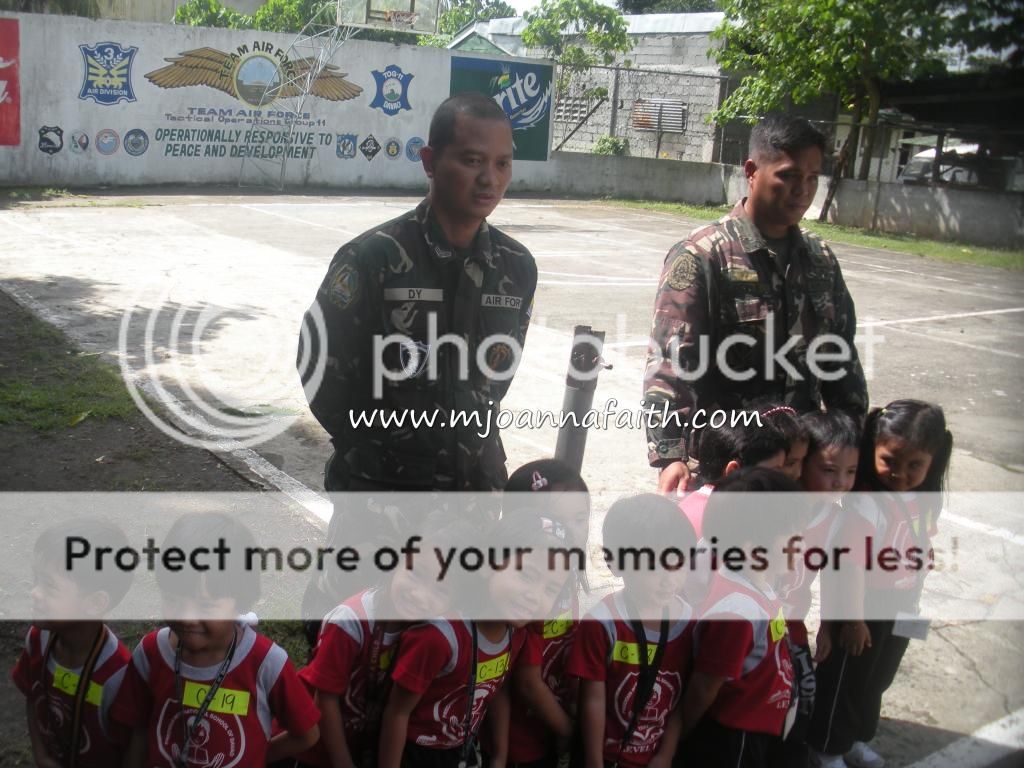 Picture taking with the officers
The K9 was relaxing after he found something in one of the sample boxes
Then after the K9 show, the officers allowed the kids to try to ride in the helicopter. Faith waited so patiently for her turn, when her teacher asked us to go back to the bus. But my little teapot is insisting, she even told her teacher to wait since she is the next one to be able to experience riding in a helicopter.
Faith was so overwhelmed with huge the Helicopter behind her, it is rescue plane in case there's flood in the city
Finally she was able to ride in one of the plane's that was there