Browsing Category: "Costumes"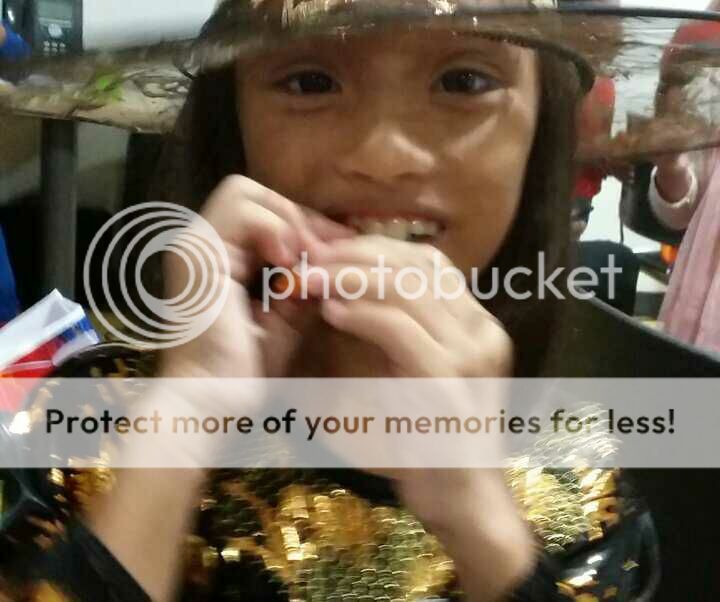 Even though, Faith said that her teeth are in danger whenever its Halloween, we don't care at all as long as she met new friends that all that matters.
Our company just provided an activity for the family and kids and I was so excited to tell it to my little teapot. At first she doesn't like it since she love it to do it in the mall but I was doubting about it because we need to purchase about P 1,000.00 so we can join while at work, it's all free. All we need to do is wear a costume that I am sure I can buy within the budget. But Faith wanted to be the princess like, good thing I was able to convince her to wear the witch-like costume I bought from Unitop.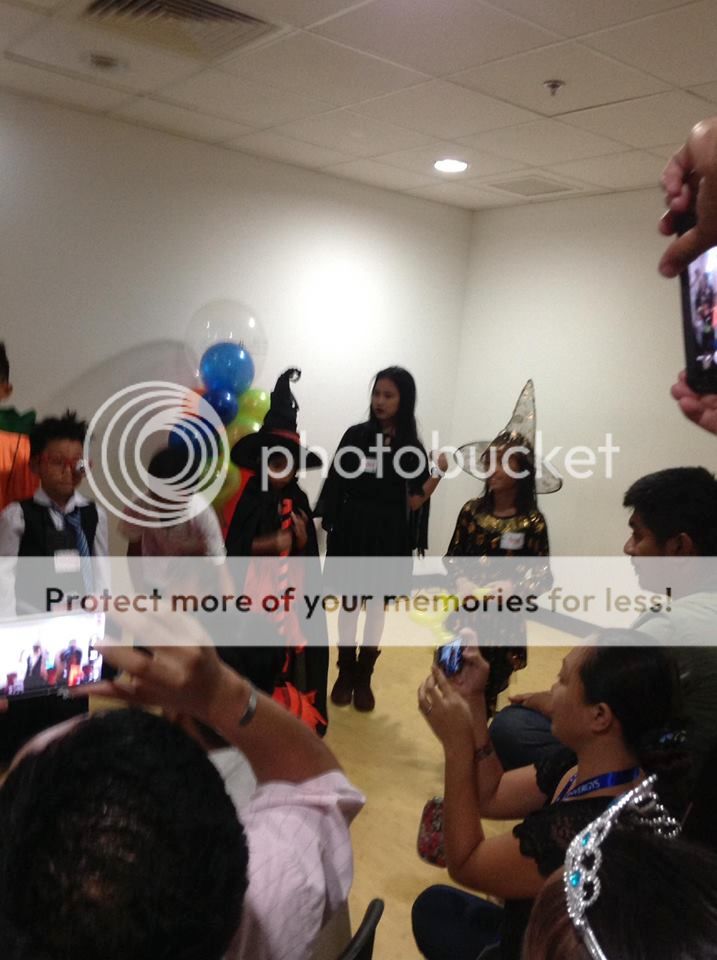 She did not win the best for costume though, but she could not contain her happiness, to see and to interact some kids in the event.
Yeah, since we were tight in budget as always, good thing I and my friend was able to pass by at this store. They sell a lot of affordable items and I am so glad that the costume of Faith was just P 100.00. I was so excited to show it to Faith, but she suggested if she can get a black wand to match the dress. Unfortunately we were not able to find a black wand for her, even so despite of having no black wand, she still wore it in the event and eventually she enjoyed it a lot.
She had a lot to offer, the emcee had so much fun interacting with her. It is just sometimes her word was foul but good thing I was there to correct her though I was not with them the whole time, since I needed to work. I just sneaked when I have a chance and thank GOD my sister Merlyn was there and Mj to guide her and accompany her. I was so thankful that even my eldest daughter enjoyed the treat so much. To the one who organized and planned the event, a big KUDOS to you and I hope there are more like this in the future. Thank you!
Thank you Ate for keeping her company, I am sure you enjoyed the treat so much that you could not help to take more pictures of it. I am so proud of you!
This afternoon we will be pretty busy, my kids and I have to leave early at home to go to the mall. I guess I already mentioned this to one of my blogs that she was invited for a birthday party and they have to wear a Hawaiian costume. Mj and I already spotted a costume for Faith the other day and it is not expensive at all so I will bring Faith today in the mall to make sure the attire will fit in her.
At first I doubted for Faith to join, you see I am so tight now with money but when I saw the prize that we checked with Mj, I decided to join her in the party. Faith's love party I guess every child does. I remember Mj before when there is a birthday party in the neighbourhood she would run  home right away to change clothes and she would tell me she have to attend a birthday party.  I guess she would always guard those friends who have birthdays because without invitation she would really join the party.
Faith is obviously doing the same thing now, the difference is she is not guarding the neighbors birthday but of her classmates and those who would send an invitation card. This is her happiness so I must send her to the party. Geez I also have to mind the gift that we are going to give.
Yes, we didn't have class today, I mean my youngest because their school had an electricity outage and since the classrooms from nursery up to Grade 3 are all air condition, it would be so hard for the kids to be comfortable because their classrooms are designed for air con. So the school announced the other day of no class today, which is the best because I will be attending a meet-up later this afternoon. It is also our chance (for me and Faith) to rest ahead for this busy week, for once the mom and the kid has all the rights to rest, to take it slow especially in the morning.
Faith just spent her day in the computer, later we will do her Kumon. Aside from playing games in the computer she is also scanning the brochure that the Toy Kingdom handed to us for free, one day when we went there. She is showing her Daddy what does she like for a costume during Halloween, and of course opposite to her Daddy who just wanted to put some make up for a zombie, Faith always wanted to be a fairy with wings and she chooses the pink fairy, she also wanted to put a wig on her hair and a mask, a butterfly mask to be exact. The butterfly mask that she pointed in the brochure is the blue one, and a pink wig with pink fairy costume, hmmm I guess a fashionista is in the house, not me obviously but my little Faith.
One day my niece was begging to buy her the Korean style pajama attire since they are going to have a Pajama party at school but when we went to the mall, she chooses a bit different style of Pajama; in fact it was not more likely a Pajama at all. The one who wore an orange sweatshirt is my niece, what do you think of her attire? Anyway she is with her 3 classmates at the picture.
On the other hand, the reasons of her picking up that stuffs, I don't even sure if that really a pajama style, oh well she said she can use it not for sleeping but she can use especially the pants outside when they will have civilian day on Wednesday. It's a good decision right? But she was so worried when she entered the school during that event; she was worried that they will not allow her to go inside because of her attire. Good thing, they were not able to notice her attire at all and she was free to join the fun.
The event was already late when it was finish, I have already texted her if where she is already, she answered me right away that the event is not yet finish. I trusted my niece, but what I don't trust is the consequences of going home late, ya know we can't trust anything in this world at all, anything can happen in just one snap of our fingers.