Browsing Category: "Swimming"
How good of a swimmer are you? Are you a major enthusiast of this activity? Or are you looking for a great way to quickly get your body back into healthy shape? There are many ways for you to reach this goal. But very few of them are as effective and just plain fun as spending time in the water. If you're not shy about getting to know new people, you can even make getting into shape a fun community activity.
Swimming With Your Peers is the Best Way to Get Better
Is it time for you to perfect your swimming backstroke technique? If so, you'll need to find a safe place to get back into shape. This will need to be a place where you can swim with and learn from others. By getting great advice from fellow swimming enthusiasts, you'll be able to up your own performance. If you really want to become a strong and competitive swimmer, this is by far the best way to do it.
You Can Get Your Body in Great Shape By Swimming
There are plenty of ways for you to build up strength and burn off fat. Swimming is by far one of the most efficient. It's also one of the most enjoyable ways to do so. By learning to swim competitively with your peers, you'll be building up a whole new network of trusted friends. Community reinforcement is a powerful incentive to get healthy.
The Time for You to Swim Your Way Back into Shape is Now
If you really want to get back into healthy shape, swimming is a great activity. The time you spend in the pool will sharpen your senses as well as your swimming skills. Best of all, you'll be learning to become more competitive in a fun and healthy manner. You'll meet plenty of great new friends while enjoying a strenuous but productive activity. There's nothing like the satisfaction you get from taking a victory lap at your local pool. So why not try it today?
Last Saturday, my eldest daughter asked me if she can swim in the nearby clubhouse. I said yes since I know that she missed swimming a lot. It was already 6 in the evening that she finished; they just dropped by at 7/11 to eat some snacks and went home. I guess she went home at around 7 in the evening. She was okay the next day but she's starting not to get okay at Tuesday, she said she had a slight fever. I had to work at that time and thought that she will be okay since I told her to take some medicines. I was worried when I went out to work; I was worried for both of my kids so I sent a message to my niece and told her to let Faith sleep with her since Mj was not feeling well.
I sent them text message from work at 11 in the evening and Mj sent me a picture of the temperature of her fever, it was 39.8. I told one of my nieces to put a cold compress so to cool her down, I was then informed that they already did it and her fever went down a little. I told Mj then that we need to go to her Pedia once I get home. Good thing that we were dismissed early at work so I was able to get home a little bit early than usual.
She was still sick when I got home, so I told her to be ready for a checkup. It was a right timing because the clinic was not that busy, we were done in just an hour or two. The diagnosed was a tonsillitis that is why she chilled last night resulting to high fever. We thought since she already took some medicines, her fever won't get back but I was wrong because around 2 in the afternoon, she became uneasy again, when I touched her forehead she was dreading hot, around 3 in the afternoon, her fever went higher to 39.9, I decided then not to go to work, I need her to be okay plus she asked me if I can stay at home. So I informed our supervisor, I also called our workforce hotline to get the reference number for my absence. Good thing our supervisor understands, I was still spared for my absence and thank GOD that my daughter is healed now.
We had a team building just last May; we went to a nearby pool. I dragged Faith with me since it is just within the city. After our shift, Faith was accompanied with her sister to work, I and my friends went to buy additional foods for the whole team, to save us time I and Faith were the one waiting for the pancit while my friends went to look for roasted chicken.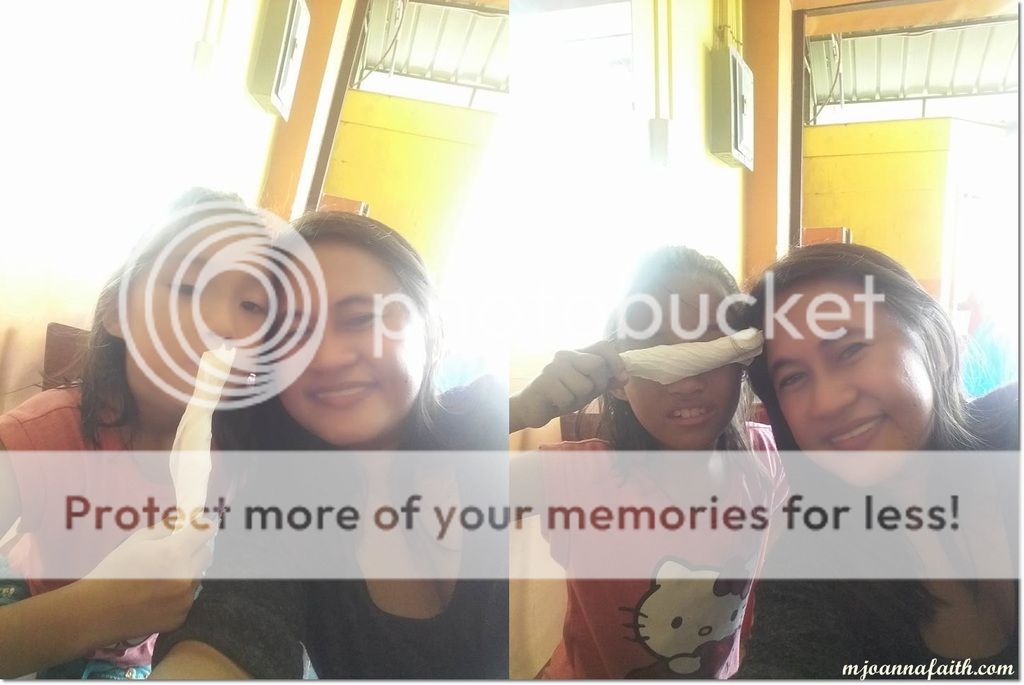 When my friends arrived, we hailed a taxi cab right away to get to D Leonor where some of our teammates were waiting for us already. On our way there, Faith is becoming uncomfortable on her seat, her lips went white, the trip was a little bit bumpy, and when the driver takes turn, he is hitting the break suddenly that Faith felt so uneasy. When we arrived to our destination, Faith vomit so hard, she even told me to punch her back real hard so she can vomit more. The trip indeed was not easy for her.
Faith wanted to roam around the place, but I stopped her and told her to just stay around. I know she wanted to go to the park in front but I can't just let her be there because no one will look after her. After our lunch we tried to walk around, but my friends don't like to get inside the wave pool, they wanted to go to the big pool. We need to ride on a cab, which travels around the area. That's the time that Faith started to have fun, yeah she was getting bored already just being around us doing nothing but singing and playing a guitar. We stayed at the big pool for 30 minutes; Faith enjoyed the slide so much that she keeps on exclaiming "Extreme!"
After swimming, Faith was so excited for the rides, the thing is that all the rides are not functioning at all. She was complaining about it but instead of whining, we decided to go home instead but before hitting the exit. I grabbed the chance to take a picture of her here:
Last week was a busy week for Faith but it was good for her because it was so dreading hot here, one time when we were on our way to her swimming class, she said it was too hot and she's thankful that she had a chance to soak in the water. Too bad it was her last day on Saturday, their graduation was set on that day I want for her to continue it to advance swimming but I don't have budget anymore and besides our car is busted again that the mechanic said we need to overhaul it. On the other hand here's Faith picture during her last day in swimming.