Browsing Category: "Trick Or Treat"
Faith was so excited to join trick or treat at work, but I realized that I needed to register first and it was too late already since the registration was already closed. Good thing that my niece has an event for trick or treat in the mall she worked for. She invited us to join, we just need to buy the pail for trick or treat worth P 75.00, I also bought Faith a headband witch and a nerd eyeglasses. Faith already had a costume that we bought last year, it was then perfect. For only P 150. 00, we had so much fun going around the mall to ask for treats. Faith almost fills in the whole bucket.
But of course, I needed to guard her not to eat all of the candies because of her teeth. She will have toothache if she kept on eating them. We supposed to watch the magic show but didn't push through it because we were not able to find chairs to sit on. So we decided to watch a movie. At first, Faith was hesitant because it was a Tagalog movie, she's worried that she can't understand the story at all but oh well it has a subtitle so she enjoyed it so much.
We went home so happy and full. Till next time.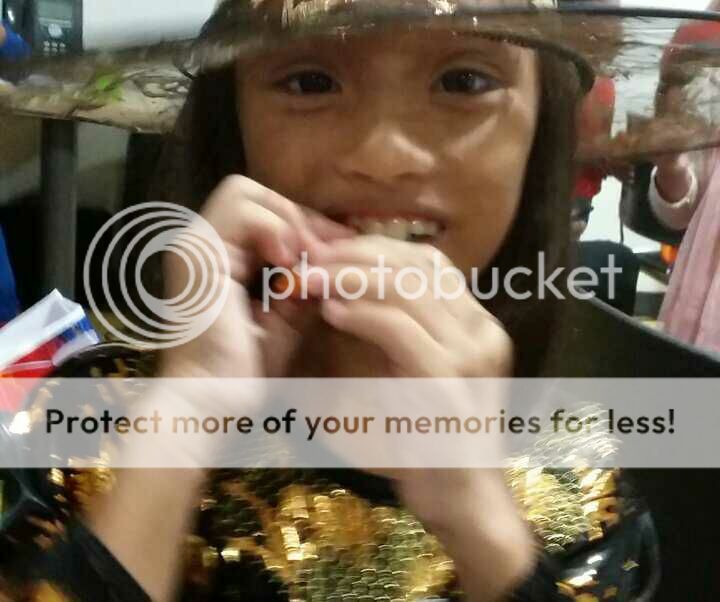 Even though, Faith said that her teeth are in danger whenever its Halloween, we don't care at all as long as she met new friends that all that matters.
Our company just provided an activity for the family and kids and I was so excited to tell it to my little teapot. At first she doesn't like it since she love it to do it in the mall but I was doubting about it because we need to purchase about P 1,000.00 so we can join while at work, it's all free. All we need to do is wear a costume that I am sure I can buy within the budget. But Faith wanted to be the princess like, good thing I was able to convince her to wear the witch-like costume I bought from Unitop.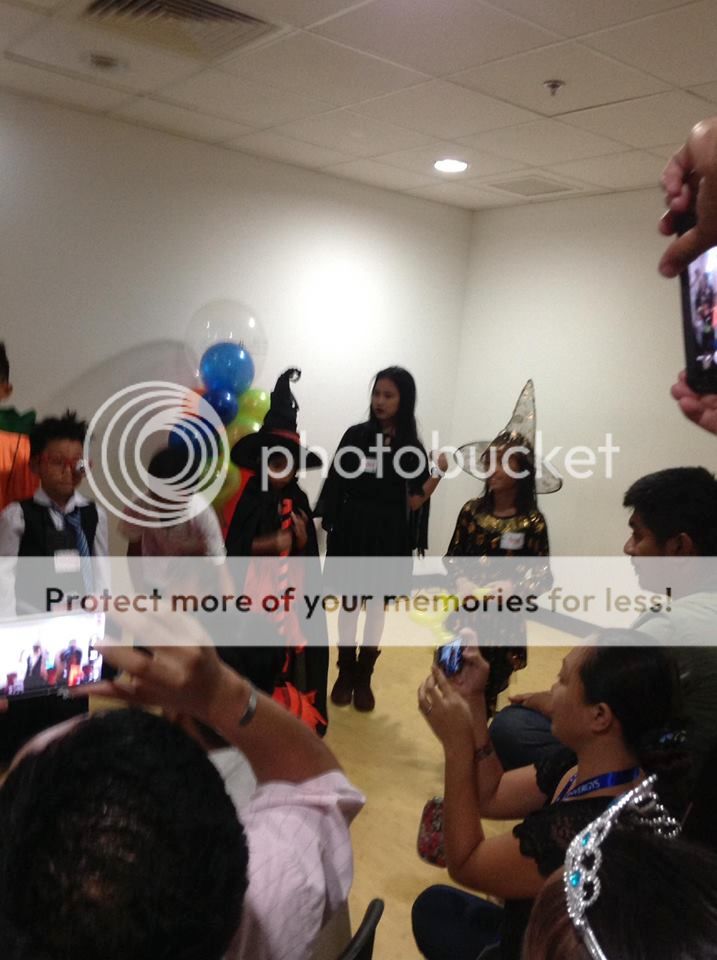 She did not win the best for costume though, but she could not contain her happiness, to see and to interact some kids in the event.
Yeah, since we were tight in budget as always, good thing I and my friend was able to pass by at this store. They sell a lot of affordable items and I am so glad that the costume of Faith was just P 100.00. I was so excited to show it to Faith, but she suggested if she can get a black wand to match the dress. Unfortunately we were not able to find a black wand for her, even so despite of having no black wand, she still wore it in the event and eventually she enjoyed it a lot.
She had a lot to offer, the emcee had so much fun interacting with her. It is just sometimes her word was foul but good thing I was there to correct her though I was not with them the whole time, since I needed to work. I just sneaked when I have a chance and thank GOD my sister Merlyn was there and Mj to guide her and accompany her. I was so thankful that even my eldest daughter enjoyed the treat so much. To the one who organized and planned the event, a big KUDOS to you and I hope there are more like this in the future. Thank you!
Thank you Ate for keeping her company, I am sure you enjoyed the treat so much that you could not help to take more pictures of it. I am so proud of you!
Yesterday, the clubhouse participated the trick or treat inside our village. The kids were so excited even Mj who is already 11 years old. Oh well, I have to spare her; it is her first time to wear a costume and join this kind of event. So here are the two ready for the trick or treat.
I also bought some candies, I bought not the usual types that we can see in Sari Sari store. I want the kids to also experience a level up candies. When my kids saw it, they wanted to get it even before the event started. So I just told my niece to set aside some so the kids could still have it, in case they only get a few. But I doubt it if the kids could only get a few, with Faith enthusiasm and charming, I am sure she can full her basket with candies and I was right! She even told her older sister, and so proud that her basket is fuller than of Mj.
Right after the trick or treat around the village, the kids immediately went to the clubhouse again to join the program that the admin prepared for them. The party was full of fun and on Tuesday there will be another party in the clubhouse again.